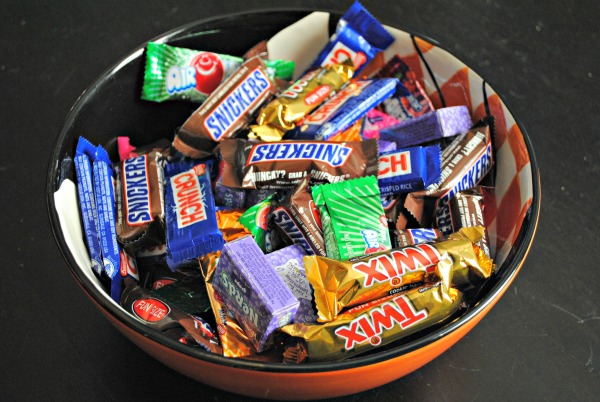 Don't get spooked by Halloween treats, prepare for the holiday with my tips on how to stay on the plan but not ruin the fun. The holiday season is upon us and with Halloween tomorrow do not let tempting treats derail you. If you are following one of my meal plans or just aiming to stay healthy there are easy ways to ease any damage this Halloween.
Don't buy Halloween candy until Halloween. If you are planning to hand out candy this Halloween stock up the day of. If you have already bought candy, keep it out of sight in the back of the pantry until that doorbell starts ringing. Another bonus of waiting to buy your candy, most stores offer deep discounts day of.
Follow a normal eating routine. Hunger is a recipe for disaster. Make sure you follow your normal, regular eating pattern. Do not save up calories as this will make it more likely you will binge eat all the candy in the bowl!
Know your candy. Look at sugar grams, not just calories and fat. You want to avoid fat-laden candies, but fat-free choices tend to be loaded with sugar which isn't a diet free pass.
Turn trick-or-treating into a workout. If you have kids that are excited to get the night started, turn on some music and have a quick dance party to get some of the energies out of them and burn some quick calories for you. Even if the weather is colder and you may want to drive the kids around this year, bundle up and head out. Walking around for an hour does burn calories. Of course, those that know me know I won't be following my own advice here. If it's cold Halloween night I won't blame you if you are nice and warm in the car while those kiddies be running around from house to house!  
In the end, despite your best efforts, you still indulge Halloween night don't beat yourself up. Have a filling breakfast with fiber and protein to help steady your blood sugar levels and go for your normal workout. Don't kill yourself in the gym the next day, but recharge your energy levels and get back on track.
At Ish Fitness, I am here to help. I offer meal planning and customized workout plans. I know how to help fix the Halloween candy hangover, just give me a call at 402-208-7401.